Espiamos is a company specialized in the commercialization of various technological devices aimed at offering security, surveillance and developing counterintelligence tasks.
The Espiamos' s  team, is committed to offering its individual clients, professionals and companies, personalized advice, products of recognized international brands and an excellent quality service, all in order to guarantee your complete satisfaction.
With the purpose that more and more people know the company and the valuable services that can be found  it, Espiamos has been present since its inception, in the most important national and international security events, among them is the most recent participation in the International Security Fair E + S + S held in the city of Bogotá Colombia in August 2017, where the company presented the main novelties in the sector of surveillance and espionage even of devices not present in their catalogs for an exclusive group of clients .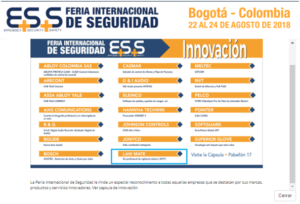 Among the many benefits offered by the participation of Espiamos in these events, is that individuals and professionals can know the latest technology in the exciting world of security and espionage by the hand of experts, who offer advice and the possibility of Try the products of your interest. Not to mention the special presentations that the company develops during the fairs, such as courses, exhibitions of exclusive brand products, special discounts, among other surprises.